Person
Lecturer, Division Manager
Division of Musicology
Department of Arts and Cultural Sciences
Contact information
E-mail thomas.olssonkultur.luse
Phone +46 46 222 32 75
Room LUX:C440
Visiting address
Helgonavägen 3, Lund
Postal address
Box 192, 221 00 Lund
Internal post code 30
Hi there, good to see you here on my page!
I teach jazz, rock, Swedish music history, music sociology, film music, music production, acoustics and a course on writing about music. I also supervise papers and am in charge of the administrative side of musicology.
Research
I write my PhD thesis on development processes within so called - for better or for worse - progressive rock. One of the main questions in my thesis is how musical change manifests itself, primarily how the development processes work in the cases where a group really progress over the years.
Teaching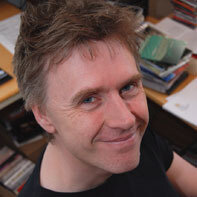 Lecturer, Division Manager
Division of Musicology
Department of Arts and Cultural Sciences
Contact information
E-mail thomas.olssonkultur.luse
Phone +46 46 222 32 75
Room LUX:C440
Visiting address
Helgonavägen 3, Lund
Postal address
Box 192, 221 00 Lund
Internal post code 30